China, December 17, 2014 - Introducing new automotive quality grades across multiple electronic applications, the world's leading semiconductor supplier, power chip maker STMicroelectronics (ST; NYSE: STM) Silicon Carbide (SiC) Diodes to meet the high power of on-board battery chargers in electric vehicles and plug-in hybrids (PHEVs, Plug-in Hybrids) Demanding requirements.
These diodes allow designers to develop smaller power modules that not only benefit automotive power systems, but also make them a key choice to overcome the challenges of inverter miniaturization proposed by Google and IEEE. Google's $1 million prize collection is smaller than one-tenth of the existing inverters and is suitable for a variety of applications, especially the kilowatt-scale inverter design of a solar micro-generator; France Semiconductor is a partner in this open challenge.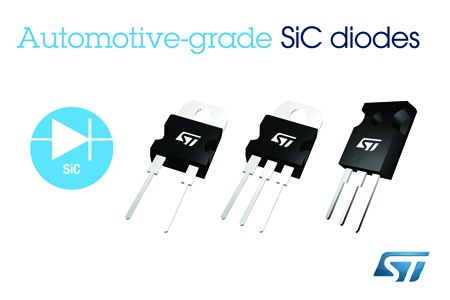 The new diodes use advanced technology to prevent high-current spikes from burning out the device. For safety reasons, designers are still using diodes too much. New products developed by STMicroelectronics have revolutionized this situation. The overcurrent protection value is 2.5 times the rated current value, so designers can choose smaller, more economical and less reliable and energy-efficient currents. Diode.
ST's new silicon carbide diodes are tested in automotive grades, and the polarity reversal breakdown voltage is increased to 650V, which meets the designer's and automotive manufacturers' desire to reduce the voltage deraTIng factor to ensure on-board rechargeable semiconductor elements. There is a sufficient safety margin between the nominal voltage of the device and the peak voltage.
As a Wideband-Gap (WBG) technology, silicon carbide has a well-known energy efficiency advantage. Compared with the size of the component itself, it compares the switching loss and the voltage raTIng. Better than traditional silicon diodes. The 650V diodes introduced this time include the 10A STPSC10H065DY in the TO-220AC power package and the 12A STPSC12H065DY in the TO-220AC package. In addition, the STPSC20H065CTY in the TO-220AB package and the STPSC20H065CWY in the TO-247 package are dual-diodes with two 10A diodes to maximize space utilization and reduce the weight of the car charger.
About STMicroelectronics
STMicroelectronics (ST) is the world's leading supplier of semiconductor solutions, providing customers with sensors, power devices, automotive products and embedded processor solutions. From energy management and energy-saving technologies, to digital trust and data security, from medical fitness equipment to smart consumer electronics, from home appliances to automobiles, to office equipment, from work to entertainment, STMicroelectronics' ubiquitous electronic devices are ubiquitous The life aspect plays a positive and innovative role. STMicroelectronics represents the idea that technology leads life.augmented.
The acrylic LED illuminated sign is an increasingly popular tool for promoting goods and services in point-of-purchase environments. When shopping online, there is a huge selection of signage equipment to browse, which can often be confusing for advertisers. So why is the LED lighted sign increasing in popularity? The reasons are numerous. First, LED Illuminated Signage are unique, especially the units for sale in these categories. Secondly, illuminated custom sign board provide increased exposure for advertisements.
Neon Restaurant Signs,Led Signs For Restaurants,Led Beer Signs,Led Pizza Sign
Shenzhen Oleda Technology Co.,Ltd , https://www.baiyangsign.com