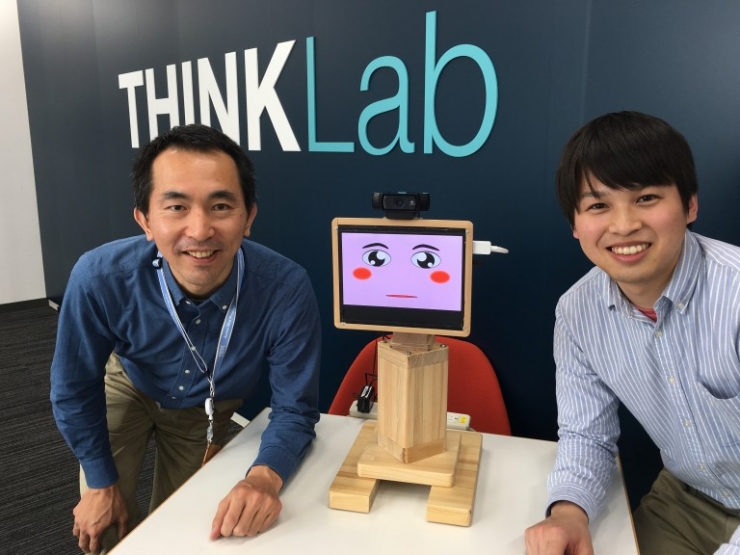 "This class today is about cognitive computing and its impact..."
The teacher began to break up. Worse, students and teachers are not even in the same classroom. This is the so-called remote video conference style of higher education that is now popular.
Without the teacher to control the overall situation and the reciprocal response, it is difficult for us to determine what information can resonate among students and what information will make them feel boring. Most of the time, students are in the large classroom, staring at the teacher on the screen to make a presentation. Also, the teacher cannot zoom in and out of the screen and cannot control which student he or she wants to see. The same happened to students who participated in distance learning.
To solve this problem, IBM researcher Akihiro Kosugi proposed the concept of a cognitive user interface that can be loaded into a computer that connects students and teachers as an observation window. Teachers can use this interface to freely move a camera in the classroom so that they can interact with the students better.
Later, Akihiro and IBM's intern Shogo Nishiguchi thought of setting up an automated virtual assistant between students who could communicate through fluid interactions; and from the teacher's side, they could configure a remote monitoring agent that could interact with teachers and students. We have classes together. This robot is called Mocoro. It can express emotions through simple facial expressions, including doubts, boredom, and other body language. In order to make the classroom better, Mocoro generally does not interrupt other people's conversations. Instead, the teacher needs to notice Mocoro's facial expressions (for example, his face suddenly fades and becomes very low). Then he asks, "What's wrong?" Then, Mocoro might reply, "Sorry, I don't quite understand what you just said. Can I trouble you to repeat it?" This type of interaction is more like a normal classroom discussion.
Shogo first named the robot "a robot that can regulate conversations." But in order to facilitate the memory of teachers and students, he named the first two letters of each word, which is the origin of Mocoro. Mocoro is a virtual avatar placed on a small display, which is put into a handmade wooden clock - perfect for putting on the table.
As a generation of robots, Mocoro uses the functions "from speech to text," "from text to speech," morphological analysis, and understanding dialogue to understand the dialogue between people.
Q: What prompted you to start research on remote surveillance agents?
Shogo Nishiguchi (SN): There is a feasibility study team at IBM's Tokyo branch. It has a cooperation project with the University of Tokyo called the Senior Cloud Plan. It includes a remote classroom plan that allows seniors to share their knowledge and skills. At home, students learn in class. Then I want to create an intuitive interface that can increase the degree of remote communication and break the pure demonstration mode. People need a better interface that can deliver non-verbal information. This is what motivated me to create Mocoro.
Q: Why is Mocoro a robot on the table, not an embedded device like other smart wearable devices?
Akihiro Kosugi (AK): Virtual reality equipment that can bring more interactive experiences is escalating, but it needs people to wear them all the time. We can't force our research subjects, the older teachers, to wear virtual devices throughout the teaching process. Can you imagine wearing the equipment for an hour or more? We want to make Mocoro an entity. People don't need to wear it. This is more practical. Â 
Q: How did Mocoro know when to provide visual assistance?
SN: Mocoro can use the voice-to-text application programming interface developed by IBM Bluemix to capture the main content of the conversation. It can calculate the number of related keywords in a specific time period, such as nouns and fillers. In this case, it can estimate the speech rate and fluency of this voice. If this number exceeds the threshold—for example, if a person speaks too quickly, it will gradually appear to be low, and then give the professor a capitalized sad face.
We made Mocoro very polite. It will not interrupt other people's conversation unless someone asks a question, otherwise it cannot speak. For example, Mocoro's face becomes dim and shows a sad look. They will not answer until the student or the teacher asks.
Q: How do teachers and students interact with Mocoro?
SN: We will start an interactive new experiment soon. I hope that Mocoro can become a natural part of the interaction between teachers and students. Putting Mocoro in their sights, Mocoro not only did not disturb the order in the classroom, but also reassured the teacher that he seemed to be in a room with the students.
For example, I hope that teachers can consciously realize that students may not understand certain parts of their teaching. Mocoro has a high degree of confusion in the classroom. I also hope that Mocoro can make students understand that they are not the only ones in the class who can't understand them, so that they can ask questions with more peace of mind.
Q: What can Mocoro's camera do?
SN: Mocoro is a fully automated robot that does not require human manipulation, but also acts freely and completes dialogues. In addition, it is also converted to manual electric control mode. When Mocoro was in the fully automatic mode, the camera on his head automatically captured what people were observing, and Mocoro would then move his face to that position. When the Mocoro is switched to manual mode, the camera can record the remote location and transmit the video image to the teacher's screen in real time.
Q: You mentioned the "Waston voice to text" feature before. Apart from this, what technology did Mocoro use?
SN: In addition to Akihiro's woodworking skills, I also used morphological analysis to capture conversational conversations and mark them in the cloud. In addition, I also used the "Waston voice to text" feature, Web real-time communication, and a dialogue script to implement the Mocoro chat feature. Â 
Q: Part of the credit for this research is Japan's science and technology agency under the Innovation Research and Strategic Development Project. What do you want to achieve before the funding is terminated?
AK: Part of this project is the result of cooperation with the University of Tokyo's Advanced Cloud Program. Its purpose is to increase the participation of older people in social activities, including through courses and other media platforms to help them share experiences, knowledge and skills.
In a series of experimental studies, I participated in a study of remote control and remote monitoring that can reduce battery consumption and optimize the remote communication experience of people from different backgrounds. Our goal is to allow everyone to collaborate effectively on this platform regardless of time, location or other practical difficulties.
Q: What is the next step in this study and Mocoro?
AK: I want people to experience remote and real-time communication, such as cognitive aids and high-efficiency visualization. I want to go further because I want to continue researching human-computer interaction.
Via IBM
KNL5-100 Residual Current Circuit Breaker
KNL5-100 Moulded Case Circuit Breaker is MCCB , How to select good Molded Case Circuit Breaker suppliers? Korlen electric is your first choice. All moulded Case Circuit Breakers pass the CE.CB.SEMKO.SIRIM etc. Certificates.
Moulded Case Circuit Breaker /MCCB can be used to distribute electric power and protect power equipment against overload and short-current, and can change the circuit and start motor infrequently. The application of Moulded Case Circuit Breaker /MCCB is industrial.
Korlen electric also provide Miniature Circuit Breaker /MCB. Residual Current Circuit Breaker /RCCB. RCBO. Led light and so on .
KNL5-100 Molded Case Circuit Breaker,KNL5-100 Small Size Molded Case Circuit Breaker,KNL5-100 Electrical Molded Case Circuit Breaker,KNL5-100 Automatic Molded Case Circuit Breaker
Wenzhou Korlen Electric Appliances Co., Ltd. , https://www.zjmotorstarter.com